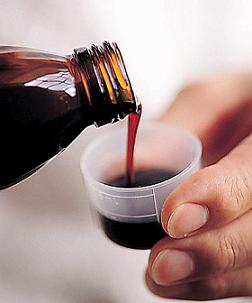 It's getting to be that time of year again – cold and flu season.
Many of you will reach into your medicine cabinets for a syrupy medication to ease your cold and flu symptoms. Unfortunately, though, those spoonfuls of medicine are not that great for your teeth.
Also read: 5 Facts You Didn't Know about Cavities
Many cough drops and liquid medications contain a variety of ingredients that make your teeth more susceptible to decay. Ingredients like:
High fructose corn syrup and sucrose.
Citric acid.
Alcohol.
Corn syrups are of course loaded with sugars which create a breeding ground for bacteria and acids on teeth. Citric acid can wear down the enamel on teeth, and alcohol – which is found in some popular cold and cough syrups – can dry up your mouth.
Also read: Dry Mouth Causes and Cures
When we are sick, we are used to taking these types of medications just before bedtime to ensure a good night's sleep. Unfortunately, there are oral risks associated with this routine. The effects of taking liquid medication before bedtime are not much different than drinking juice or soda before bedtime – because you produce less saliva while you sleep, sugar and acids remain in contact with the teeth longer, increasing your risk for decay.
What can you do to lessen the bad effects of cough syrup on teeth? Here are a few tips:
Take liquid medication at meal times so that more saliva is produced

to rinse away the sugars and acids.

Brush your teeth or at least rinse your mouth well with water after taking medication.
If it's available, choose a pill form of the medication instead of syrup.
Medication can alleviate some of the discomfort we have when we are sick – so please do NOT stop using cold and cough syrups. But please keep your teeth in mind the next time you reach for a spoonful of medicine.
Also read: 3 Unsuspecting Causes of Gingivitis