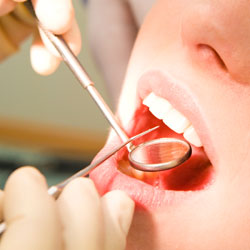 After a cancer diagnosis, most patients take stock and get serious about their overall health. Yet, there is one area that is often overlooked: the mouth. Many people don't know the potential effects of cancer treatment will have on their oral health.
Mouth, gums, and teeth are particularly vulnerable to chemotherapy used to treat many types of malignancies. While many oral reactions are temporary, it's important that patients be aware of what may be going on inside their mouths at the time of cancer treatment.
Some of the most common consequences of chemotherapy or radiation to the head and neck area include:
mucositis, which is inflammation or ulcers in the mouth
mouth infections and bleeding stemming from suppressed immune function
salivary gland dysfunction resulting in dry mouth
taste changes
dry mouth
and pain
Here at THE SCIENCE OF SMILES®, we emphasize the importance of routine dental exams, brushing a minimum of twice a day, flossing regularly, using fluoridated toothpaste, and being mindful about healthy diet choices. For patients undergoing chemotherapy and radiation, we advise more frequent checkups and perhaps the use of a prescription-strength fluoridated toothpaste.
We understand the demands on patients that arise after a cancer diagnosis. But patients should not let their oral health slip during this time. Remember, the state of your mouth, teeth, and gums influences the ability to maintain good nutrition, speech, and appearance. Good oral health can positively enhance overall health and sense of well-being for everyone!
About THE SCIENCE OF SMILES®
THE SCIENCE OF SMILES® offers affordable cosmetic and laser dentistry and gentle, compassionate general dental care in Pasadena, CA. Our office is conveniently located with extended hours to meet your needs. At THE SCIENCE OF SMILES®, we provide most dental services, from basic preventative care and general dentistry to specialized procedures, complete dental reconstruction and TMJ/Headache management. Patient satisfaction is our top priority and we strive to provide the exceptional, affordable dental care and personal touch that lead to lasting relationships. A smiling patient is our greatest reward and we look forward to keeping those smiles healthy, beautiful, and bright. Discover affordable up-to-date dentistry and a team who truly cares at THE SCIENCE OF SMILES®.